Raining Jane Shop
Albums
HOLIDAY SPECIAL: 15% off everything in the Store until December 31
PLUS: free gift wrap + personalized greetings handwritten by the band!
Orders typically arrive 5-10 business days after purchase via USPS.
'Tis the season for giving, and we'd like to give you a little something special: 15% off ALL our merch — including our recent VINYL record, CDs, tote bags, and bandanas!
AND... we're ready to wrap your gifts and include a custom handwritten note for your loved ones! After you place your order, just shoot us an email (info@rainingjane.com) and we'll be glad to personalize your gift items!
Happy Holidays!
from Raining Jane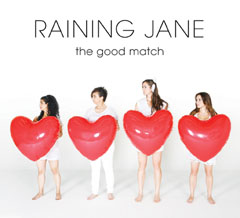 The Good Match
July 2011 — CD
August 2018 — VINYL
The Good Match
Oh Song
Storming
Wish You Were Here
A World That's Made For Me And You
Enough
Paper Cut
From Me To You
Love Is A Battlefield
New Year
Paper Nest EP
March 2008
Prelude
Incline
Broken Parts
Clementine
Pinball
Castles and Factories
Desperate Sails
Browntown (bonus)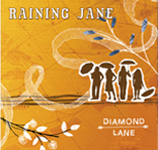 Diamond Lane
January 2005
Wyoming Sky
Window Song
Fashionable
Deep in My Pocket
Tonight
Somebody
Diamond Lane
Birthday Malaise
Come On
Turn Your Lights Down Low
Follow Me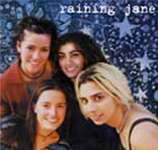 Raining Jane
January 2001
These Walls
One Way
Big Girl
Long Pause
Out Loud
Dissolve
Both Hands
Tango
Let It Go
Summer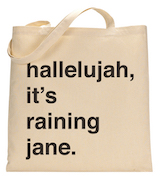 "Hallelujah, It's Raining Jane" Tote Bag
15"x16" medium-light weight natural canvas tote.
Make a statement with this spacious, versatile, around-town carrryall! It's perfect as a gift bag for your holiday needs, too!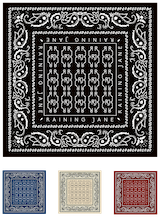 RAINING JANE BAND-ANA
22" Cotton bandana. Available in Black, Navy, Tan, and Red.
Wrap it round your head, tie it round your neck, or stuff it in your back pocket like a Boss!